 
Ornate Atom
Acquistando questo prodotto puoi ricevere fino a 6 punti. Il totale del tuo carrello è 6 punti che potrai convertire in un coupon di: 0,60 €.
30,00 €
Compra su Server Sicuro

Spediamo in giornata gli ordini ricevuti entro le ore 11.00 (LUN/VEN)

Dirito di recesso, come da condizioni
JOYETECH - Atomizzatore ORNATE          
Joyetech ORNATE 6ml
Introduzione al prodotto

L'atomizzatore ORNATE Joyetech, 6ml appeso serbatoio con 25 mm di diametro, con dettagliato allo stile di architettura neo-georgiano, porta avanti tali caratteristiche audaci come la tripla testa bobina di MGS con tre canali di flusso d'aria distinti. Ogni canale d'aria si correla con le insenature vetrina del flusso d'aria triple per un ultra basso assorbimento di resistenza. L'ornato si trova ben visibile su ogni mod impreziosita da un ultra confortevole punta larga a goccia foro. Il suo diametro 25 millimetri nasconde abilmente un 6ml completo. e-liquido capacità. In breve, questo atomizzatore sembra intelligente, ma significa business.

parametri

Dimensioni: 25,0 millimetri * 70,0 millimetri
Capacità: 6.0ml
Colore: Argento, Nero
Teste applicabili: MGS Clapton 0.15ohm, MGS Triple 0.15ohm
Materail: Acciaio inossidabile
Threading di connessione: 510
Il flusso d'aria regolabile: Basso
Riempire liquido: Top

Joyetech atomizzatore è dotato di

1 * atomizzatore Ornate
1 * testa MGS SS316L 0.15ohm
1 * testa MGS Triple 0.15ohm
1 * tubo di vetro di ricambio
1 * Adattatore Bocchino
1 * bag Anello di tenuta
1 * Manuale e garanzia della carta
1 * carta di avvertimento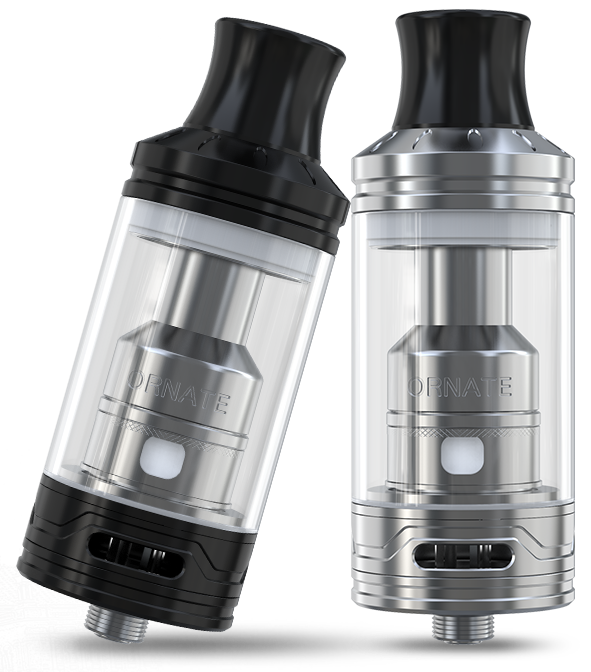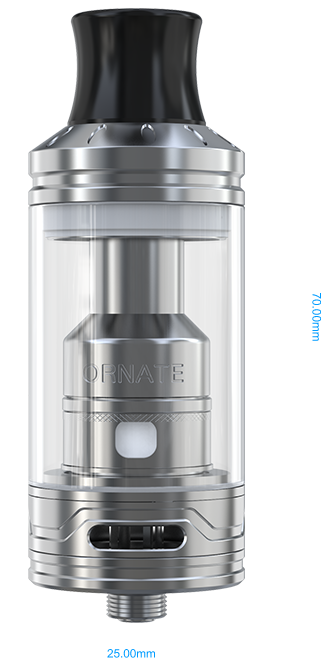 Parameter:
Size: 25.0mm*70.0mm
Capacity: 6.0ml
Color: Silver, Black
Applicable Heads: MGS Clapton 0.15ohm, MGS Triple 0.15ohm
Standard Configuration:
1 * ORNATE atomizer
1 * MGS SS316L 0.15ohm head
1 * MGS Triple 0.15ohm head
1 * Spare glass tube
1 * Mouthpiece adapter
1 * Seal ring bag
1 * Manual & warranty card
1 * Warning card
MGS series heads for ORNATE
The new MGS series heads, including MGS SS316L 0.15ohm and MGS Triple 0.15ohm head with the enormous shape are
especially and perfectly designed for the ORNATE atomizer.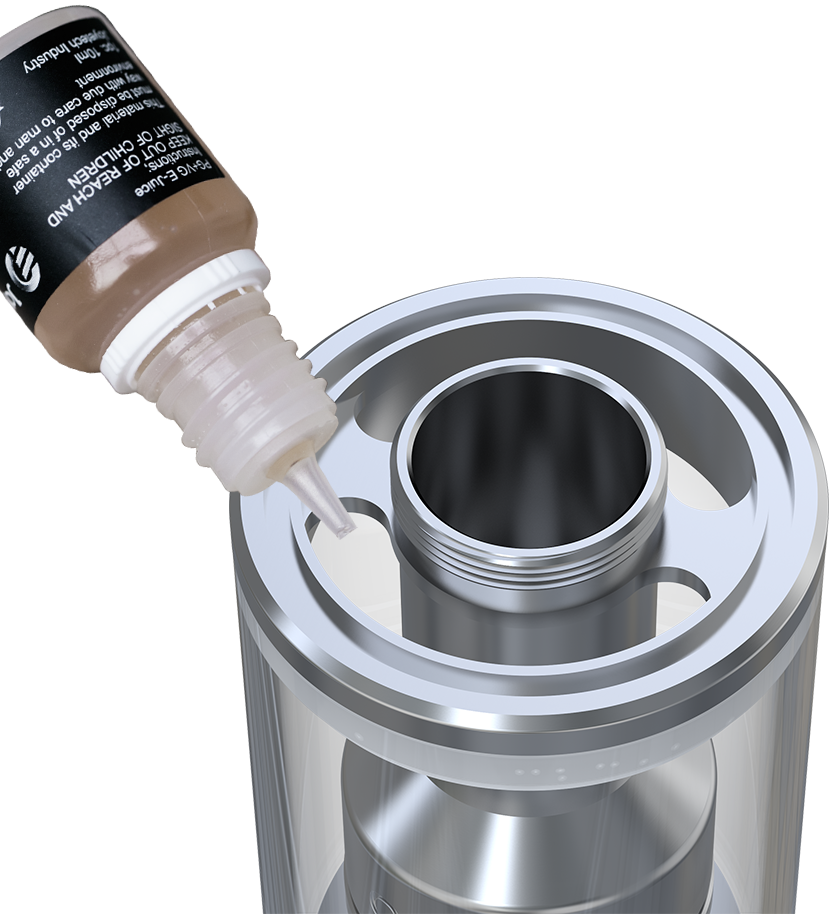 Filling e-liquid with ease
Simply uninstall the top cap from the vent pipe component, 
then inject the e-juice into the two side holes (not the vent pipe) directly.
Considerable airflow inlet
To achieve the huge cloud and great flavor with the MGS heads, large air slots with multiple holes are necessary. 
Just rotate the valve to adjust the air-let.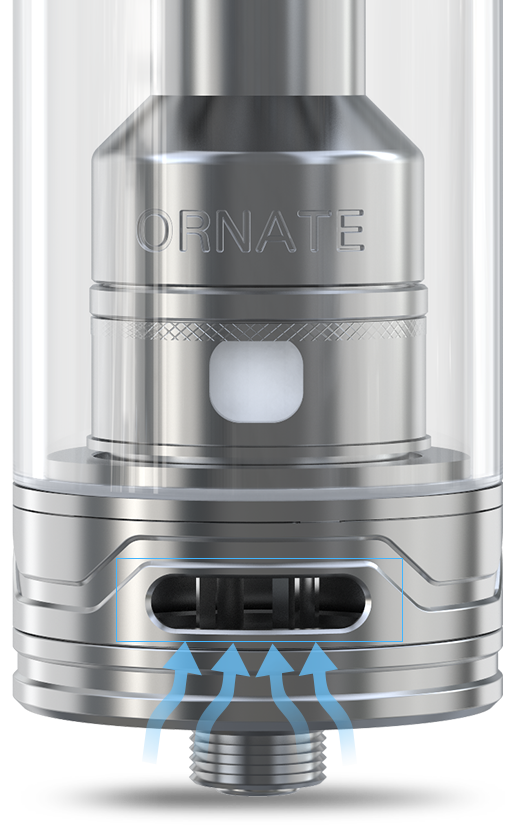 The mouthpiece adapter for ORNATE atomizer enables to put a normal 510 mouthpiece on it.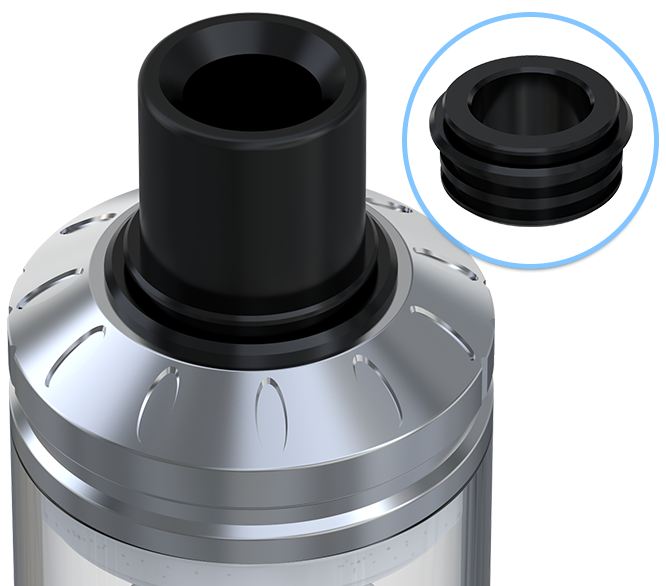 Detachable structure, easy to clean
The ORNATE atomizer can be easily detached and is able to wash separately.

Atomizer head replacement
Unscrew the atomizer tube, the head is located in the base, just unscrew it to replace and clean. 
(NOTE: Please do not wash the atomizer head with water. Simply scrub it with cotton or clean dry cloth.)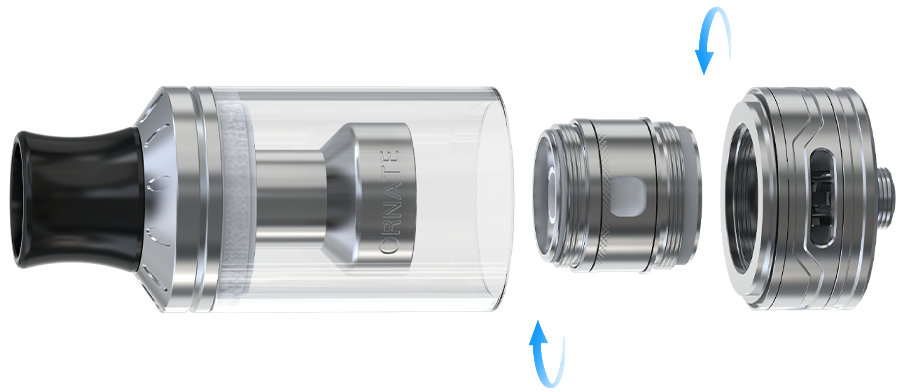 I clienti che hanno acquistato questo prodotto hanno comprato anche: